Why is it important to consult a vein clinic for vein treatment near me in CA?
The signs and symptoms of vein disease can be subtle and develop slowly over time. For this reason, patients can often associate the pain of underlying venous disease with the normal signs of aging, rather than a medical condition which requires treatment. Some of the signs and symptoms of vein disease, or venous insufficiency, include the presence of varicose veins and spider veins, chronic changes to the color and texture of the skin, leg heaviness and aching, restless legs and cramping.
If you experience any of the symptoms of vein disease, it is crucial that you find a leading California vein clinic for varicose vein and spider vein removal as soon as possible. Vein disease is a treatable condition, however it is important that you have it diagnosed and treated, at a good spider vein treatment center, in a timely manner in order to prevent further complications.
Delaying vein treatment at a reputable vein center may lead to a worsening of your condition and the development of further complications, including:
Immense pain and discomfort as spider veins and varicose veins grower larger and spread out
A reduction in confidence due to the unsightly appearance of spider veins and varicose veins
Profuse bleeding of distended varicose veins following a bump or a scratch
Skin conditions, such as venous stasis dermatitis and leg ulcers
Deep vein thrombosis, which can lead to further vein damage, or even a life-threatening pulmonary embolism
Seeking vein treatment near me in CA from a reputable vein doctor will provide relief from the painful and debilitating symptoms of your chronic venous insufficiency.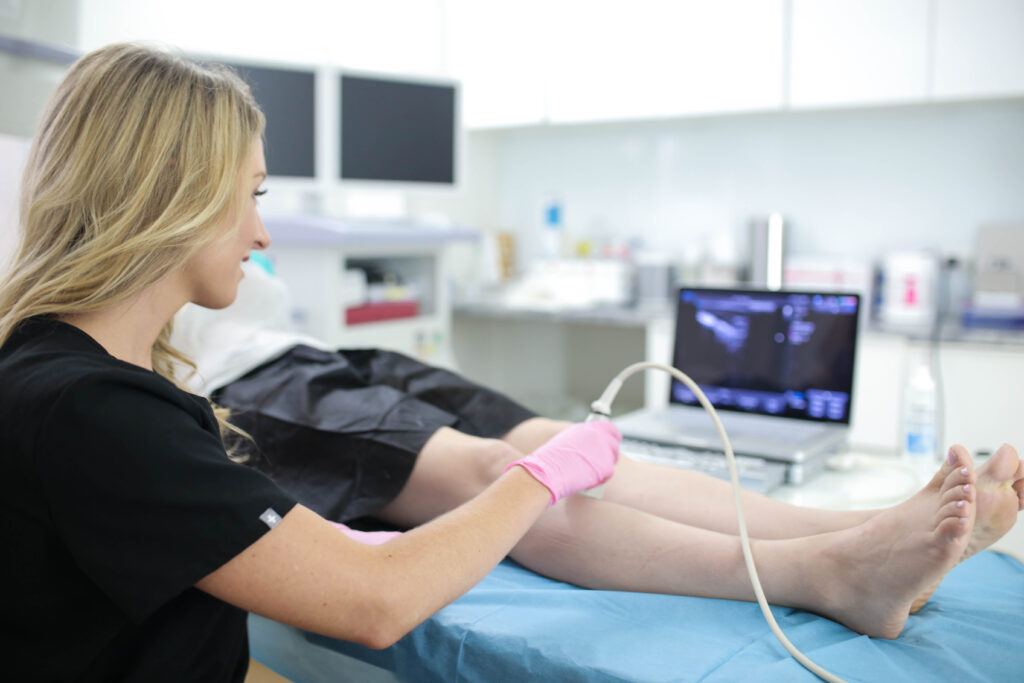 What are the qualities of a top vein doctor for vein treatment near me in CA?
So, how do you go about searching for the best vein doctor for your vein treatment near me in CA? The standard of vein treatment that you receive is highly dependent upon the quality of your chosen vein physician, so it is important that you choose the right spider vein dr!
Here, we discuss some of the qualities that a top vein doctor possesses so that you can be better informed to make your decision.
A top vein physician will possess a strong educational background, highlighting their high standard of skill and training. Look for a varicose vein specialist who has trained at one of the top, Ivy League medical schools, such as Harvard Medical School. You should be able to find out plenty of information about a potential varicose vein doctor from their biography which should be included on their vein clinic's website – start with a quick online search.
While a vein doctor's education and training are highly important, a vein specialist should also have plenty of experience diagnosing and treating vein disease. Make sure that he or she has a proven track record of providing exceptional vein care with no complications.
A good spider vein doctor will have plenty of positive reviews and testimonials from their previous patients. Make sure you use a trusted review site to ensure that you get unbiased opinions.
The very best vein doctors will specialize in the latest minimally invasive vein treatments such as radiofrequency ablation, sclerotherapy, VenaSeal and Varithena, using state-of-the-art technology. Avoid vein doctors who offer laser treatment for vein disease, such as endovenous laser ablation (EVLT). EVLT is known to cause significantly more discomfort than both VenaSeal and radiofrequency ablation.
A top spider vein physician will provide all of their patients with tailored treatment plans to meet their specific needs.
You should find a vein specialist who is highly skilled at using vascular imaging techniques to accurately diagnose the root cause of your spider veins and varicose veins. Vascular imaging, using Duplex ultrasound, allows a vein doctor to image the veins with your legs and visualize how blood is flowing through them.
It is important that your chosen vein doctor is friendly, compassionate and patient. You should feel comfortable talking to your vein specialist about your detailed medical history and symptoms and confident that they listen to you carefully and respect your opinion. You must be able to ask your varicose vein doctor any questions that arise during the course of your treatment.
With a bit of careful research, you should be able to find a top varicose vein specialist at a vein center near me to provide you with high quality varicose vein treatment in southern California.
What are the advantages of using minimally invasive treatments to treat vein disease?
Minimally invasive procedures offer distinct advantages over surgical treatment options, such as vein ligation, vein stripping and venous bypass surgery. Minimally invasive treatments shut down the diseased saphenous veins, allowing blood flow to reroute through healthier veins.
So, what are some of the advantages of using minimally invasive treatments to treat venous disease? These treatments require no downtime or hospitalization and are:
Minimally invasive and non-surgical
Painless and comfortable, requiring only local anesthesia
More effective than surgical options
Considered to be extremely safe, with minimal risk of adverse effects
Schedule an initial consultation at a top vein center for vein treatment near me in CA today
Vein Treatment Clinic in San Diego offers minimally invasive vein treatments performed by some of the country's most accomplished varicose vein specialists. Dr. Jasmine Koo, one of our leading double board-certified vein doctors is an expert in the field of venous reflux disease. Dr. Koo is kind and approachable and focused on patient-centered care.
Our San Diego based vein clinic is highly accessible, located in the La Jolla neighborhood, close to Torrey Pines Beach state park and Westfield UTC shopping center.
Find out more information about vein treatment near me in CA by scheduling an appointment at Vein Treatment Clinic San Diego today.