In the age of the internet, a search for a "vein treatment California," can bring up a wealth of information about vein treatment centers in the San Diego area, so explore a vein clinic's online presence to see if their website is informative and transparent. A great vein treatment clinic will provide you with background knowledge and treatment information about vein disease that will help you understand your personal diagnosis and treatment options.
Read up on the doctors to ensure that they have the expertise to provide you with the best possible care, and look through patient reviews to learn more about the vein clinic staff. Patient testimonials can inform you of the staff's patience in explaining treatment procedures and diligence to take the time to familiarize themselves with a patient's medical history and conditions.
After going through a vein center's website and exploring the content that it has to offer, look for their contact information to reach out and ask any follow-up questions. The staff at the vein center will be able to clear up any questions or concerns you may have before paying a visit to the vein treatment center.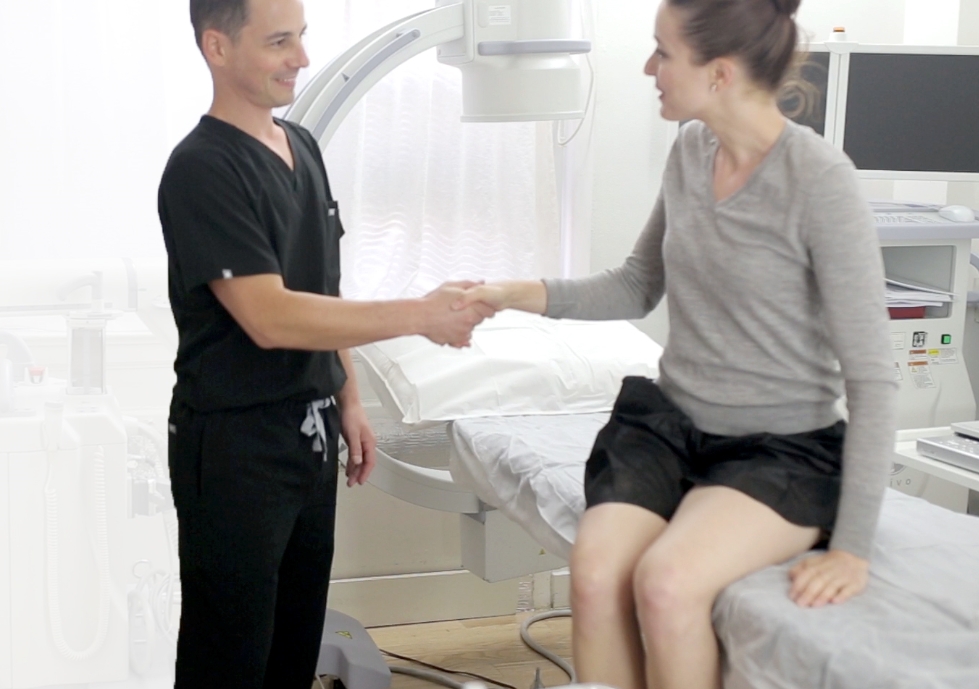 Minimally Invasive Procedures
If you're looking for "vein treatment California", you're probably dealing with a vein disease, like chronic vein insufficiency, varicose veins and spider veins, or deep vein thrombosis. When choosing a vein center near me for treatment, it is important to make sure that they offer minimally-invasive treatment methods, which limit the size and number of incisions necessary, which in turn decreases pain, risk of infection, and wound healing time. Medicine has come a long way since the exclusively-surgical procedures that required anesthesia and extensive recovery, which can be avoided with minimally-invasive treatments.  
Spider Vein Treatment
The best spider vein treatment available is sclerotherapy, a minimally-invasive treatment that typically uses tiny needles to inject small amounts of medicine into the veins to significantly improve their appearance in only one month. The whole procedure takes less time than a one-hour lunch break and causes little to no discomfort. You can return home or back to work right after the procedure because there is no anesthesia or recovery time required.
Varicose Vein and Venous Insufficiency Treatment
Varicose veins and venous insufficiency can also be treated with non-surgical minimally invasive treatments including VenaSeal, radiofrequency ablation, or varithena.
VenaSeal is a vein adhesive that is used to seal the saphenous vein in the leg that causes varicose veins, and doesn't require any local anesthetic. The VenaSeal glue closes off the diseased vein almost immediately, and this seal will block the blood flow through that vein and eventually reroute it through the healthy veins in your legs. This is also a treatment that has no recovery time, is highly effective, and causes minimal discomfort.
Radiofrequency ablation, another non-surgical minimally invasive treatment, starts with the administration of a local anesthetic, followed by the insertion of a small catheter into the unhealthy vein using ultrasound. After the numbing solution is delivered to the vein, the catheter is activated to deliver thermal energy to the vein walls, causing them to close down. The procedure takes less than an hour, is highly effective, and comes with minimal pain and discomfort.
Varithena is a pre-made sclerotherapy foam that is injected into the vein to reduce the appearance of varicose veins. It seals off the damaged veins then reroutes blood flow, and similarly to the first two treatments mentioned, the procedure takes less than an hour and there is no pain or discomfort involved.
Be sure to steer clear of vein treatment centers that make use of endovenous laser ablation, which uses laser light to trigger an inflammatory reaction in the vein that leads to a seal that will eventually reroute blood through other healthy veins. Although this process sounds similar to the previous ones mentioned, this treatment is different because it comes with a week-long recovery time, during which you would have to wear a compression stocking, and a lot more pain and discomfort than the previous treatments mentioned.
When putting your venous health into someone else's hands, it's important to make sure that the person who will be treating you is highly qualified and experienced in venous medicine. A vein doctor is called a phlebologist, and they can have a variety of educational backgrounds in medicine, including cardiology, anesthesiology, and emergency medicine, as long as they have the proper training to treat veins.
The most important quality to consider when looking for a vein center is the quality and expertise of their doctors, and the best way to evaluate a phlebologist is to visit the clinic's website and read up on their educational backgrounds, success stories, and patient testimonials. It's important to find a vein doctor who is proficient in minimally invasive procedures so you can be sure that you are receiving the highest standard of vein care. It is equally important that you seek a vein doctor who is understanding, compassionate, and able to effectively communicate with you at all stages of treatment.
Dr. Billy Schoenfield and Dr. Carly Guthrie at the San Diego Vein Treatment Clinic are both Harvard-trained and double board-certified vein doctors who are highly experienced and well-versed in vein care. They are kind, approachable, and prioritize patient care, as they strive to provide everyone at their vein treatment center with a pleasant visit.
Our clinic in San Diego is located in a beautiful neighborhood called La Jolla, near the Torry Pines Beach State Park and Westfield UTC Shopping Center. End your search for "vein treatment California" and set up an appointment to come visit us! You can call our office, where a friendly staff member would be happy to speak with you, or book an appointment online.