What are the qualities of a good varicose vein treatment clinic near me in SD?
Have you noticed vein problems, such as large blood vessels bulging out of the surface of your skin? These blood vessels may be dark purple, blue or red in colour and look a bit like a knotted rope. You may also be experiencing uncomfortable symptoms, including a feeling of heaviness and aching. These symptoms indicate the presence of varicose veins which may be caused by underlying chronic venous insufficiency.
It is important for you to consult a top varicose vein treatment clinic near me in San Diego, as soon as you notice these symptoms. A reputable vein doctor will be able to treat your venous disease, improving your symptoms and increasing your self confidence.
So, what qualities should you be looking for when choosing a top varicose vein treatment clinic near me in SD? Here are some points that you should consider when deciding where to have your vein treatment:
The first thing to consider is the credentials of the varicose vein doctor. It is imperative that you choose a vein physician who specializes in the treatment of varicose veins and spider veins. They should have a wealth of experience in treating varicose veins, with a proven track record of successfully treating their patients. Check to see whether your chosen varicose vein dr is board certified and find out more about the residencies and fellowships that they have undertaken.
Select a vein treatment center which employs the latest, state-of-the-art technology and equipment. Advanced technology can make the treatment of vein disease easier and more successful and improve the accuracy of diagnosis.
The best varicose vein treatment clinics will offer minimally invasive procedures as standard. These have been proven to be safer, easier on the patient and more effective than surgical options. Your vein doctor should be experienced at providing minimally invasive treatment options, such as sclerotherapy, radiofrequency ablation, VenaSeal and Varithena.
The vein clinic staff should be friendly and accessible. You should feel comfortable asking them any additional questions that you may have and confident in their ability to guide you through the treatment process.
A reputable varicose vein center will have a notable online presence. The vein clinic's website should be transparent, containing information about the services that they offer as well as the credentials of their vein doctors.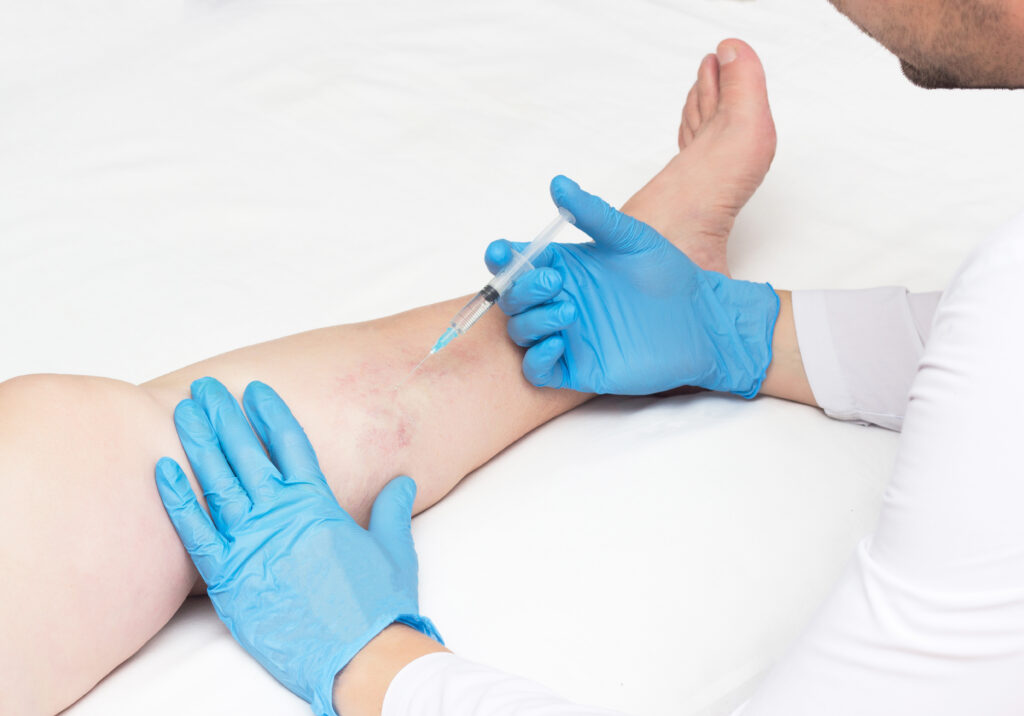 How does a top vein doctor diagnose underlying venous disease?
When you visit a varicose vein center near me in SD, your vein doctor will carry out a thorough diagnosis. The best San Diego vein doctors will initially ask about your medical history and the symptoms that you are experiencing. He or she will then perform a thorough physical examination of your abnormal leg veins. If your vein doctor suspects underlying venous insufficiency, he or she will obtain ultrasound imaging of your leg veins, using Duplex ultrasound, which combines conventional ultrasound with Doppler to show the speed and direction of blood flow within the blood vessels. The images that your vein specialist obtains will allow them to see how your veins and the valves within them are functioning.
If your vein doctor diagnoses venous disease based on these ultrasound images, then they will start the vein treatment process. Around 99% of the time, an accurate diagnosis of vein disease will be obtained from Duplex ultrasound alone.
How can minimally invasive procedures be used to treat venous disease?
Minimally invasive procedures can help to restore blood flow in diseased veins by shutting down the dysfunctional veins and allowing blood flow to reroute through healthy veins. So, what are the best minimally invasive vein treatment options?
Radiofrequency ablation is a highly successful treatment option, with a success rate of over 97%. The procedure is relatively quick, taking between 15 and 45 minutes, and causes minimal pain and discomfort. During the procedure, your varicose vein specialist uses ultrasound to direct a catheter into the diseased vein. A numbing solution is then administered into the vein and the catheter is activated, delivering thermal energy to collapse the saphenous vein.
Sclerotherapy is the best minimally invasive option for the cosmetic treatment of spider veins. During sclerotherapy, your vein doctor will inject a sclerosant solution into your affected vein, fusing the vein walls and closing down the vein. This closed vein is eventually reabsorbed by the body. It is important to note that, as this is a cosmetic treatment, sclerotherapy will not be covered by insurance.
Varithena uses a specialized sclerotherapy foam and, unlike traditional sclerotherapy, can be used in the treatment of varicose veins.
Recently approved by the FDA, VenaSeal uses a medical adhesive, which is injected into the diseased veins, to fuse the vein walls together. The closed vein then hardens and eventually gets reabsorbed by the body.
Endovenous laser treatment is not recommended as it causes significantly more discomfort than radiofrequency ablation and VenaSeal.
It is imperative that you discuss your treatment options carefully with a reputable vein doctor and that they develop a tailored treatment plan for you. The best choice of treatment varies from patient to patient, depending on a number of factors, including the size and shape of the diseased vein, the age of the patients and their medical history.
Consult a reputable varicose vein treatment clinic near me in SD today
Vein Treatment Clinic is one of the best varicose vein treatment centers in San Diego. As the nation's leaders in treating venous disease, our top vein doctors offer the latest minimally invasive treatments using state-of-the-art technology. Our San Diego Clinic is situated in a beautiful neighborhood, near to Torrey Pines Beach state park and the Westfield UTC shopping center.
Schedule an initial consultation at one of the best varicose vein treatment clinics near me in SD today.