What are the qualities of a good Varicose Vein Treatment Center near me in California?
If you have spider veins and varicose veins or some of the other, more subtle signs of vein disease such as, restless legs, leg heaviness and cramps, then you are probably wondering what qualities you should consider when looking for a varicose vein treatment center near me in California. Vein disease is a common condition that affects hundreds of thousands of patients each year.
As there are so many vein clinics in California, it can be difficult to decide which one is the best option for your spider and varicose vein treatment. Here are a list of some of the qualities of a good varicose vein clinic for your to consider as you start your search:
A top California vein clinic will employ expert vein doctors, or phlebologists, who are highly qualified to diagnose and treat vein problems. Make sure the varicose vein doctor is a board certified vein specialist as this distinguishes them from other vein treatment providers. Vascular-specific board certification demonstrates that a vein doctor has undertaken rigorous training and examination and that he or she is up-to-date on the best clinical practices.
Don't forget to consider a vein doctor's personality as well. A varicose vein specialist with impressive qualifications and vast experience is great, but they must also be patient and compassionate. A spider vein doctor who possesses these characteristics is more likely to take the time to listen to your symptoms and concerns and work with you to formulate an individual treatment plan to address your specific needs.
As well as a strong academic background, a good vein physician will have extensive experience at diagnosing and treating underlying vein disease, or venous insufficiency. You should be able to read through online reviews and testimonials from a vein doctor's previous patients to get a better understanding into the standard of care that they offer. Make sure you obtain these reviews from reputable review sites to avoid bias.
The best varicose vein treatment clinics in California will offer the latest, cutting edge vein treatments. Using state-of-the-art equipment to diagnose and treat vein disease ensures excellent results.
A good vein clinic will offer minimally invasive vein treatments, such as radiofrequency ablation, sclerotherapy, VenaSeal and Varithena. These treatments require minimal recovery time and are easier and less painful for the patient than surgical procedures.
You must choose a vein treatment center which employs friendly and approachable staff. It is important that you feel comfortable with the staff at your chosen vein clinic and that you feel able to ask them any questions that arise. Being treated by compassionate and helpful staff will reduce your anxiety and make the vein treatment process easier for you.
A reputable vein center will have a strong online presence, allowing you to find out plenty of information about the vein treatment center and its staff, even before you contact them.
You should find a vein clinic in California which accepts your insurance policy. Advanced vein procedures can be expensive, so it is important to make sure that your insurance will cover your treatment before you commit.
It is worth noting that insurance companies will not pay out for treatments that are considered purely cosmetic. If you have visible spider veins, but no vein disease on ultrasound or no symptoms, then your insurance company will not pay out if you seek sclerotherapy on a purely cosmetic basis.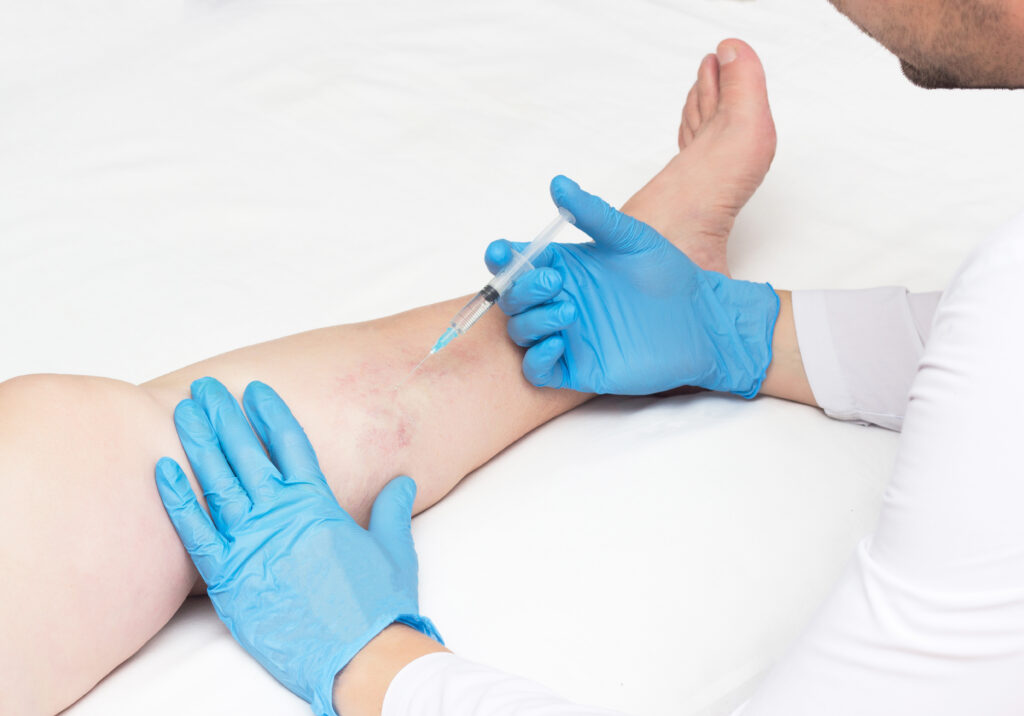 Why is it important to seek treatment from a top vein doctor?
The goal of a top varicose vein dr at a varicose vein center near me in California is to diagnose the root cause of your spider veins and varicose veins and effectively treat it to eliminate the unpleasant symptoms of vein disease. If vein disease remains untreated, it can lead to serious health complications, including:
A lack of self confidence due to the ugly appearance of unsightly varicose veins and spider veins. Varicose veins and spider veins may increase in both size and number as untreated venous insufficiency is allowed to progress.
As spider veins and varicose veins grow larger and spread out, they can cause immense pain and discomfort.
Distended varicose veins, and sometimes even spider veins, can bleed profusely when bumped or scratched and this bleeding may be difficult to control.
You may develop skin conditions from untreated varicose veins, such as eczema, leg ulcers and the more severe condition lipodermatosclerosis.
One of the most dangerous complications associated with varicose veins is deep vein thrombosis (DVT), or blood clots that form within the deep veins. DVT can lead to vein damage or, in the worst case scenario, a blood clot can travel up to the lungs, causing a pulmonary embolism, which is potentially fatal.
Clearly, it is important to seek treatment from a top vein specialist at a varicose vein center near me in California as soon as possible.
Schedule a consultation at one of the best varicose vein treatment centers located in San Diego today
Vein Treatment Clinic is a highly accomplished and reputable varicose vein treatment clinic, located in California. Our San Diego-based vein center boasts state-of-the-art infrastructure and offers minimally invasive treatments, performed by our leading varicose vein specialists.
Dr. Billy Schoenfeld and Dr. Carly Guthrie are both Harvard trained, double board-certified doctors with extensive experience at diagnosing and treating vascular problems. Our leading doctors are kind and approachable and are passionate about providing patient centered care.
Vein Treatment Clinic San Diego is located in an idyllic neighborhood, called La Jolla. Conveniently, we are close to both Torrey Pines Beach state park and the Westfield UTC shopping center.
Schedule your initial consultation at Vein Treatment Clinic San Diego and be reassured that you are being treated by one of the best vein specialists in California.