How can I find the best Varicose Vein Treatment Clinic near me in California?
Vein disease, or chronic venous insufficiency, can be painful and disabling, causing symptoms such as spider veins and varicose veins, leg heaviness and aching and restless legs. Venous insufficiency is a common condition that affects females more commonly than males.
If you are experiencing any of the signs and symptoms of vein disease, then it is important to seek treatment from a top varicose vein treatment clinic near me in California for your vein problem as soon as possible.
Listed below are some of the top points that you should consider when choosing the best varicose vein clinic for your needs.
Most importantly, you should make sure that the vein doctors on staff at your chosen vein clinic are highly qualified and experienced. The qualities of a top vein doctor will be discussed in more detail in the next section of this article.
It is crucial that you check out the treatment options that a vein clinic offers. The best vein clinics in California will offer the latest, minimally invasive procedures for the treatment of your varicose veins and spider veins. This will include treatments such as sclerotherapy, VenaSeal, Varithena and radiofrequency ablation to reroute blood away from diseased veins and back through healthier saphenous veins. Minimally invasive vein treatments are quicker and allow patients to resume their daily activities immediately after their procedure. This means you can even schedule your treatment during your lunch hour and head straight back to your desk! These newer treatments are also safer and more effective than surgical procedures. The most you'll need to do is wear compression stockings after a non-invasive treatment like sclerotherapy. Avoid vein clinics which only offer you surgical treatment options.
State-of-the-art equipment is essential for both the accurate diagnosis and treatment of underlying vein disease. Make sure that your chosen vein center has access to the latest technology and equipment and that their staff are trained and competent in using it.
As well as finding a vein center which employs some of the leading vein doctors, it is important to choose a vein clinic which has friendly and compassionate staff. The vein clinic staff will guide you through your journey from diagnosis to treatment of your vein disease, so it is important that you trust them and feel confident in their approach. You should feel able to raise any concerns or queries that arise with the vein clinic staff and feel satisfied and informed with the information that they provide to you. It is essential that you feel relaxed and reassured with your treatment providers as this will help with your recovery.
Generally, you will be able to tell a lot about the quality of a vein clinic from its website. A top varicose vein clinic will maintain an up-to-date website which contains vital information about the clinic's staff and the treatments and services that it offers. You should also be able to read online testimonials from their previous patients.
The most important thing to do, when choosing a vein clinic for the treatment of your vein disease, is to do plenty of research. Find out as much as you can about potential vein treatment clinics, using information from reputable medical sources. Choosing a top vein clinic and vein doctor is something that you should not rush into. If you consider the key points discussed above, you should be able to find the best varicose vein center near me in California in no time!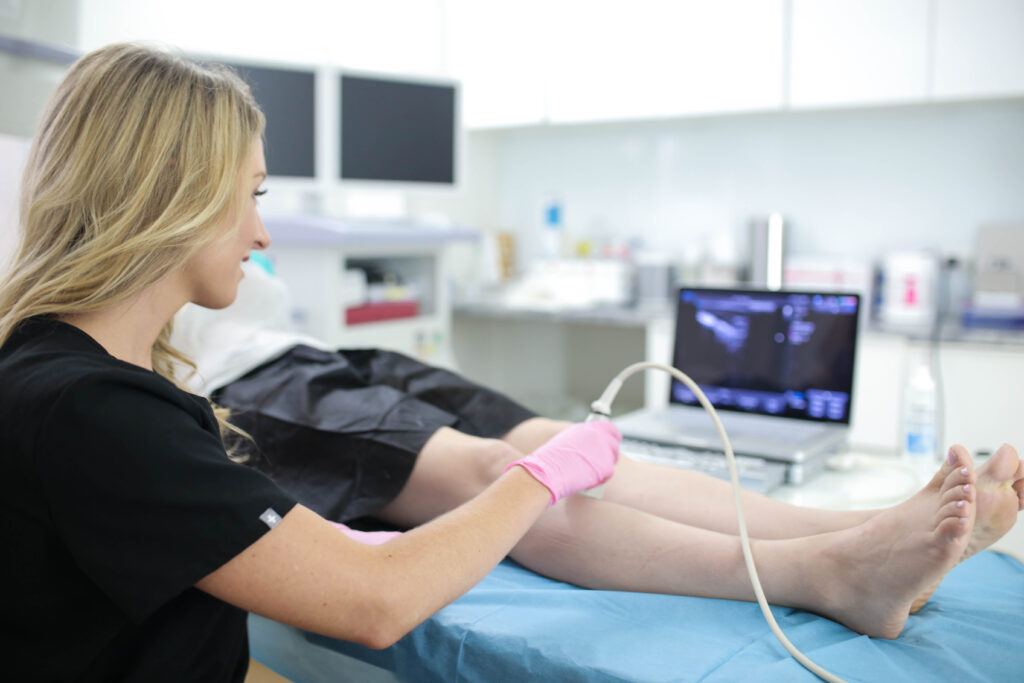 What are the qualities of a top vein doctor?
When creating a shortlist of potential vein treatment centers, the most important thing to consider is the quality of the vein doctors on staff. A top varicose vein treatment center will only employ vein specialists who meet strict criteria. Finding the best vein doctor is vital to ensure that you receive the highest standard of care.
Here is a brief overview of what you should consider when searching for a top vein physician:
Find a vein treatment clinic with board-certified vein doctors. While board-certification is not essential, it sets vein doctors ahead of their peers, highlighting their continued education and commitment to the field. Board-certified vein doctors are some of the most highly qualified and experienced.
The best vein doctors will have trained at reputable medical schools, such as Harvard Medical School and other Ivy League universities. Look for a vein doctor with a strong educational background.
Experience is just as important as educational background, so make sure you choose a varicose vein doctor who has plenty of experience within the field. The best vein doctors will have many years of experience diagnosing and treating vein disease using minimally invasive techniques.
Obtaining an accurate diagnosis of the root cause of vein disease is essential for choosing the most appropriate treatment. For this reason, you should find a varicose vein specialist who is skilled at using ultrasound exam techniques to diagnose underlying vein disease.
Check out online testimonials and reviews from a vein doctor's previous patients. You should be looking for a vein doctor with a proven track record and plenty of positive reviews!
Finally, make sure your chosen varicose vein dr is friendly and approachable. You should feel confident leaving your vein health in their hands!
Schedule a consultation at a top Varicose Vein Treatment Clinic near me in California today
Vein Treatment Clinic is one of the leading vein centers located in California. Our San Diego based clinic provides the latest, minimally invasive procedures using our state-of-the-art infrastructure. Our top, double board-certified vein doctors, Dr. Billy Schoenfeld and Dr. Carly Guthrie, are two of the country's finest and are passionate about offering patient-centered care.
Vein Treatment Clinic San Diego is conveniently located near to Torrey Pines Beach state park and the Westfield UTC shopping center, in a beautiful neighbourhood, called La Jolla.
Schedule a consultation at Vein Treatment Clinic San Diego today, either by giving the team a call or by booking online.